Regular price
Sale price
$19.99 USD
Unit price
per
Sale
Out of Stock
It is now widely recognized that modern grain-based diets are deficient in omega-3 fatty acids, particularly the long chain EPA and DHA. It is also now known that this deficiency can result in a wide variety of health maladies. Wild animals could occasionally prey on cold water fish to gain essential fatty acids, but this is not practical for pets. Keto-Mega™ allows for pets to get those omega-3 fatty acids in a convenient form. 
Flaxseeds are an alternative source of dry and more pleasant tasting omega-3's, but some pets may not be able to effectively convert the ALA in flaxseeds into the metabolically important longer chain EPA and DHA. Because flaxseeds contain powerful antioxidants to protect their omega-3's, combining them with the less stable EPA and DHA through a special seed selection and milling process, can create a solution in terms of taste, form (dry), and stability against oxidation. 
Keto-Mega™ is
a pleasant tasting and convenient dry form of all the important omega-3's.
Features and Benefits:
+ Uses a proprietary and patented method of seed, algae, and fish oil selection and milling to create a unique stable dry form of ALA, EPA, and DHA omega-3's
​+ Molecular barrier is created between flaxseed antioxidants and marine and algal oils which restricts oxidation of EPA and DHA bonds.
+ 
Pleasant and clear flavor and aroma without adulteration
+ 
Nutritional value even survives reasonable cooking
+ 
Rich in dietary fiber
+ 
Rich source of lignans and other antioxidants (phenolic acids, phytic acids, flavonoids, and tocopherols) (Antioxidants = 8,000 TE/100g)
+ 
Source of Phytoestrogens
+ 
High biological value amino acid composition
+ 
Rich omega-3 content provides anti-inflammatory benefits
+ 
Almost no digestible or glycemic carbohydrates (reduces blood glucose levels, increases satiation, and reduces glycemic index)
+ 
Proven study demonstrates that DHA had no degradation over 6 months based on DHA recovery analysis
Permitted Nutritional and Health claims for the contents of this unique product:
+ 
Excellent Source of ALA-Omega 3 and EPA/DHA Omega 3
+ 
Supports cardiovascular health
+ 
Supports overall health
+ 
Qualified Health Claim around EPA/DHA – "Supportive but not conclusive research shows that consumption of EPA and DHA omega-3 fatty acids may reduce the risk of coronary heart disease. "
+ 
DHA supports brain, eye, and heart health
+ 
DHA is important for optimal brain and eye development
NUTRITION FACTS & INGREDIENTS
| | |
| --- | --- |
| Serving Size 1 tablespoon (9 g) | |
| Servings per container 30 | Each Serving Provides: |
| Calories 54 Calories from Fat 38 | |
| | Amount Per Serving |
| Total Fat | 4.2g |
| Cholesterol | 0mg |
| Sodium | 2.6mg |
| Total Carbohydrates | 2.3g |
| Protein | 1.7g |
| Total omega-3 fatty acids | 1500mg |
| Eicosapentaenoic acid | 40mg |
| Docosahexaenoic acid | 120mg |
| alpha-Linolenic acid | 1340mg |
Milled Organic Flaxseed, Organic Algal Oil, Organic Fish Oil, Enzymatic Digest of Liver, Citric Acid, Vitamin E Mixed Tocopherols, Rosemary Extract.

GENERAL INFORMATION & INSTRUCTIONS

Suggested Dosage: 1 tablespoon per 30 lbs. of body weight daily.
Suggested Use: Mix in with meals or treats.

View full details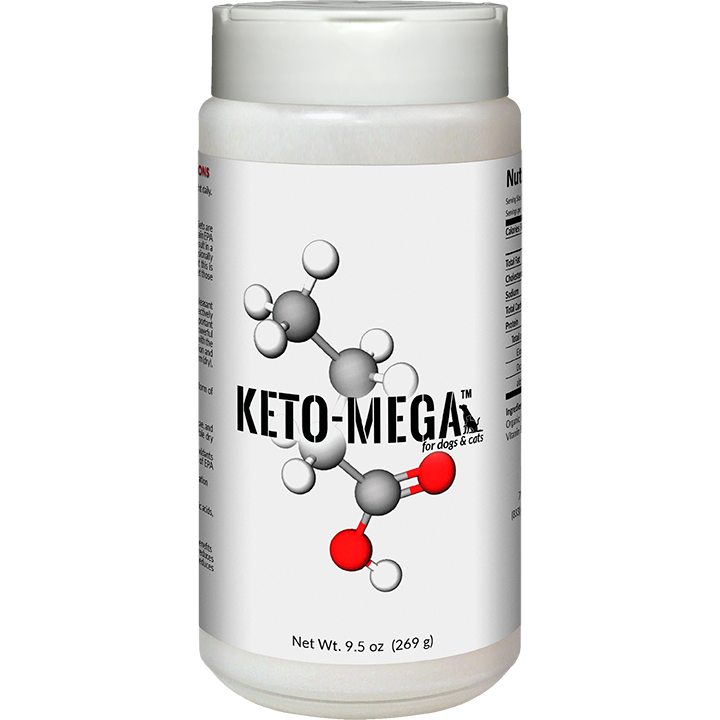 1Continental United States residential addresses only.